My Review
We originally met Cora and Jamie in the first book of the series, In Full Bloom.  Just when you thought they would get together, Cora and Jamie went their separate ways so that they could concentrate on their careers.  When Jamie realizes that New York, just was not for him, he comes back home.
Cora takes one look at Jamie and knows that she is still in love with Jamie.  She doesn't really trust her judgement though because of a cheating asshole that she nearly married.  
Jamie is just drawn to Cora.  The hug they share that first night said it all.  The chemistry never faded.  With a helpful nudge from family, we got to see them just fall  back in love with each other, or at least admit that they never stopped loving each other..  
When a revenge seeker holts Cora's declaration, Ms. Roth decided that she had to take my heart and squeeze it and make me tear up.  I felt Jamie's despair like it was my own.   Another touching story about second chances at love.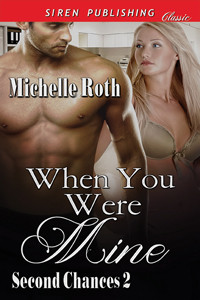 Synopsis
When Cora Blanchard said goodbye to Jamie Connolly seven years ago, she knew she'd have to see him again eventually. What she doesn't expect is for all of the old feelings she thought she had let go to come rushing back to the surface. It was as if nothing had changed.
Fresh out of a highly publicized train wreck of a relationship, Cora is afraid to trust in those feelings or in herself. She tries to remain friends with him, but she's just fooling herself. There's no way she can be with him and not want more.
The moment that Jamie sees her, he realizes that seven years of silence and two thousand miles haven't changed his feelings. The only thing that has changed is Cora. He sees a sadness in her eyes that was never there before. Just as Jamie is starting to earn her love and her trust, someone threatens to tear them apart forever.
This title is currently only available at Bookstrand. 
Add to Goodreads.
About the Author
Michelle Roth is a novelist from Los Angeles, California. When she's not disappearing into foreign lands, or making two perfect strangers that she invented fall in love, she's probably curled up somewhere with a glass of wine and a good book.
In her spare time she is typically hanging out with her awesome boyfriend and their two equally awesome cats. She likes taking road trips to nowhere in particular, cooking elaborate meals then making other people do the dishes, and being nerdy on the internet. Visit her blog at www.michelleroth.net for information on her latest releases, exclusive excerpts, and more.