My Review
What a wonderful new world created by Mardi Maxwell.  Zarronia is feared throughout the universe for their fighting skills and defending those that need them.  What a better way to try to defeat them, than try to wipe out the one thing they need most…..their women.
The Zarronians have been looking for years for a way to survive.  When their salvation comes in the form of those that hurt them the most, bitterness ensues.  
Valan never thought that he would have to bond with the one species that hurt their people the most.  When he is forced to accept a mate, he is less than thrilled and makes sure she knows it.
Lia never thought her life could get any worse than having to deal with her father.  Then she went to bed one night and learned it could.  
Funny thing about Fate is that she knows what she is doing.  It takes awhile for Valan and Lia o come to terms with their feelings and situation, but when they do, the love shines through.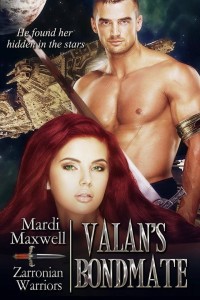 Synopsis
A Warrior with a Grudge…
At thirty-one Valan Erikson is a fierce and relentless warrior. He's never lost a battle but he's losing the war with the mating fever raging in his body. He's accepted that his death is imminent until he's told a compatible race of females has been found. When he discovers they're Wrothian he refuses to take one as a mate until the Council threatens to strip him of his warrior status.
A Female Who Wants to Escape Her Fate…
Lia ad-San's sire has arranged to trade her to, Gorm ad-Jai, a man she despises. Before she can escape she's abducted by a fierce warrior. Unaware that her sire caused the deaths of the Zarronian females, including Valan's mother and twin sister, she reveals her identity and demands to be freed.
A Complication They Didn't Expect…
Enraged to be bonded to the daughter of his most hated enemy, Valan treats Lia as a prisoner rather than a beloved bondmate. When the Zarronians learn her identity they demand she be punished for her sire's war crimes. Valan realizes too late that he's endangered his mate's life. The fever they share will keep them together but only love can make them want each other.
Buy Links
Amazon http://amzn.to/1vDx8vp
Amazon UK http://amzn.to/1GsfDHZ
Barnes &Noble http://goo.gl/QBs1Uv
iBOOKS US http://goo.gl/d4CsKK
iBOOKS GB http://apple.co/1Gsfft3
GOOGLE PLAY http://goo.gl/t80f2p
KOBO http://bit.ly/1HSJaYa
About the Author
I love the quirky and the unique. I believe in UFOs, ghosts, and that we have a moon station on the dark side of the moon. lol I have a wonderful son and DIL who have been kind enough (after much badgering and hinting around) to give me three lovely grandchildren. I'm a very young grandma 😉
I've loved reading since I was a little girl although just about every book I ever read I rewrote in my mind. After a while I decided to just start writing my own books. My best friend dared me to send one in, so I did and to my surprise it was accepted.
I love books that make you laugh, cry, sit on the edge of your chair in fear that the couple won't work it out, and then finally cheer for them when they do. I'm a true believer in a happy ending and won't read a book or watch a movie that ends any other way.
I write every day but I always find time to spend with my family and friends as well as my hobbies (cooking, gardening, traveling, and ceramics).
My personal motto is "Regret is a wasted emotion." Live well and happy reading.
Author Links
My website: www.mardimaxwell.com
Facebook: www.facebook.com/MardiMaxwellRomance
Twitter: www.twitter.com/MardiMaxwellRom
My blog: http://www.mardismentionables.blogspot.com/
Goodreads: https://www.goodreads.com/author/show/7790271.Mardi_Maxwell
Amazon: http://www.amazon.com/Mardi-Maxwell/e/B00HUWU9FM