Book 3 Review
Hot, passion filled book sure to make your heart race and then skip a beat.  These two big bad bounty hunters will have you fanning yourself regardless of the temperature outside.  An amazing story about taking a chance at love with someone you trust and admire. Ford and Dana are an amazing couple.  My favorite of the series so far.  What made this book even better was Brian and Sway.  They get their own book right?  I have a feeling they will be my favorite if they do.  So much emotion, I know that book will have me balling like a baby.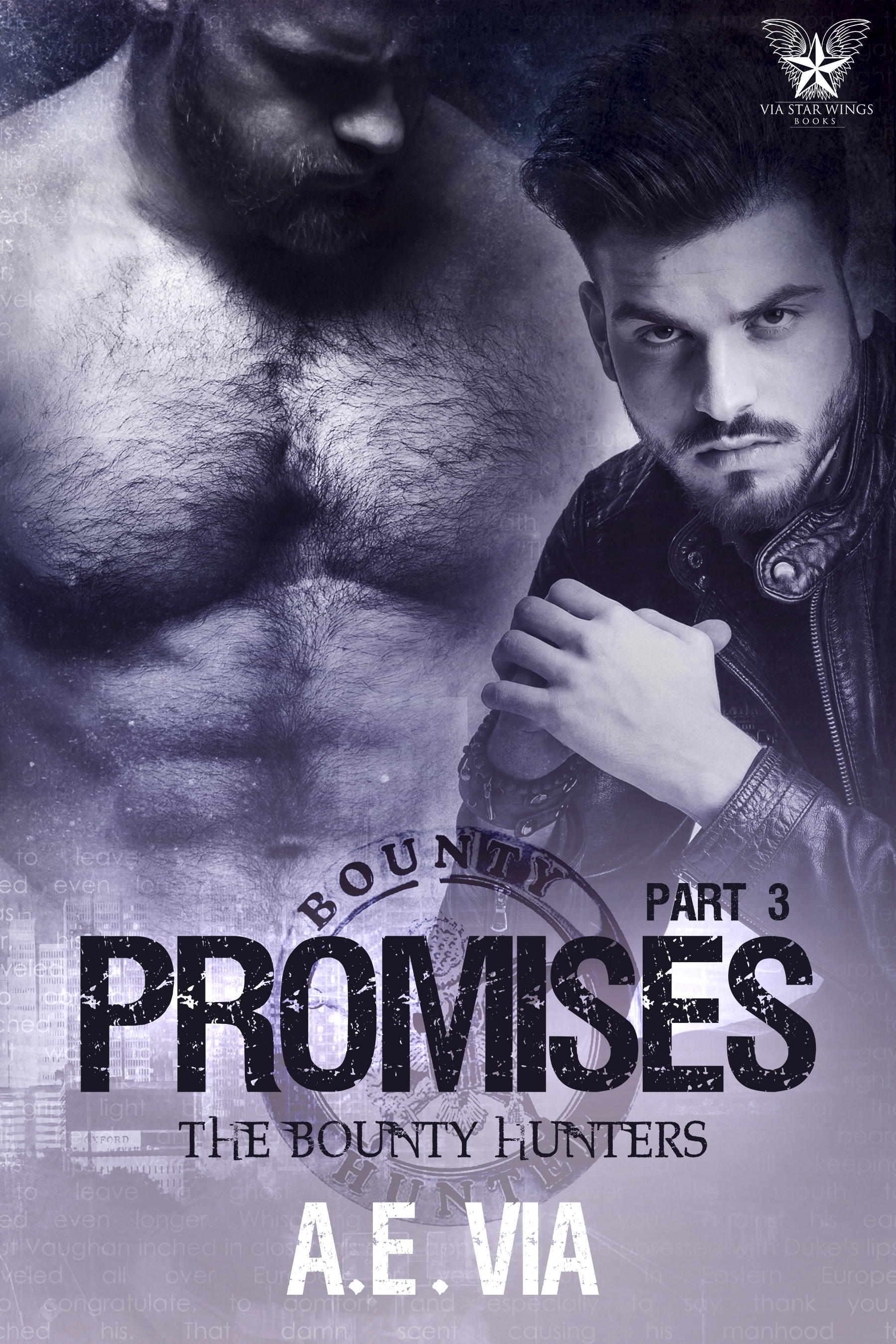 A bounty hunter's partners to lovers' story.
The hunt is on… and he's the prey.
Bradford (Ford) King was sure he had the rest of his life mapped out. Though he was no longer a SEAL Lieutenant, his brother was home safe and he had a job that still allowed him to satisfy his hunger for hunting bad guys. Life was simple, no distractions or complications – at age forty-six – that's all Ford wanted. What he didn't want was his work partner, sniper/watchman, Dana, giving him s**t all the time.
Dana Cadby had grown up labeled a roughneck from the wrong side of the tracks. He'd fought, scrounged, and survived despite a father that constantly told him he couldn't. Dana pulled himself up by his own boot straps and made a name for himself in the marksman community. He'd been Duke's bounty watchman for five years. It was his job to ensure their safety, watch their backs. At thirty-three, he was trusted, well respected by his peers, his bosses, his friends… so why couldn't he earn the same respect from his partner?
Dana knew he was bisexual before he graduated high school. He also knew he was attracted to the huge, 6'3", SEAL from the moment he and his brother came to join their team. It wasn't easy for him to tamp down his immediate reaction to Ford's thick muscles, full beard, and dark eyes. Still, Dana exhibited nothing but professionalism towards him, not wanting to make his 'straight' partner uncomfortable.
After Dana took back his ex-girlfriend, he'd noticed an intensification in Ford's bad attitude. One that turned aggressive and downright antagonistic, and Dana was damned if he'd just lay down and take it. He was gonna make that man respect him if it was the last thing he did.
When Duke sends Dana and Ford out to track down their most dangerous bounty yet, they both embrace the fact that they make one hell of a team… but they fight tooth and nail against the powerful intimacy brewing between them.
Beware: When Ford and Dana connect, no fugitive can hide from the hunter and his watchman.
This story is a part of a series but can stand alone. It does not end on a cliffhanger and has a HEA.
Disclaimer: This book is about MM romance, albeit there is a very brief MF scene.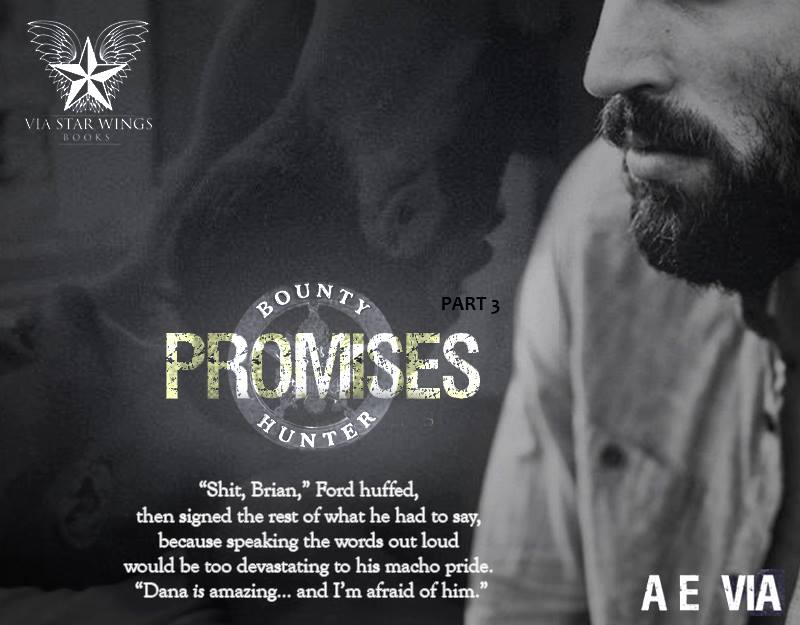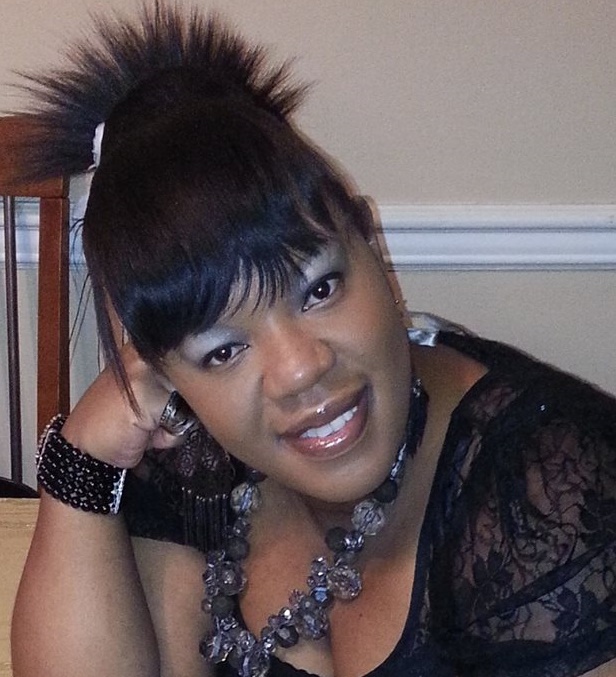 A.E. Via is an author in the beautiful gay romance genre and also founder and owner of Via Star Wings Books. Her writing embodies everything from hopelessly romantic to adventure, to scandalous. Her stories often include intriguing edges and twists that take readers to new, thought-provoking depths. 
When she's not clicking away at her laptop, she devotes herself to her family—a husband and four children.
Adrienne has tons of more stories to tell, so be sure to visit her site to learn more! Go to A.E. Via's official website http://authoraevia.com for more detailed information on how to contact her, follow her, or a sneak peak on upcoming work, free reads, VSWB submissions, and where she'll appear next.
Links
Amazon Link: https://goo.gl/KQ32Uz
Kobo: https://goo.gl/qXPIzK
Smashwords: https://goo.gl/tSpzyz
Goodreads: https://goo.gl/AbfTzJ
Author Official Website: http://authoraevia.com
A.E. Amazon Author Page: https://goo.gl/AVpOeJ
Facebook Author Page: https://www.facebook.com/aeviaauthor
Twitter: https://twitter.com/AuthorAEVia
Book 1 Review
Vaughan always just knew that Duke was it for him. He just had to bide his time and grow up and be someone Duke could respect. Now that he is of age and has a job, he is going after the only man who has owned his heart.
Duke was always attracted to Vaughan, but he was underage and his best friend's son. How could he want that?
This book is full of romance, suspense and action. Just what I expect from a book from A.E. Via.
Book 2 Review
This is Quick's love story and I really loved it.  I know what it feels like to be the third wheel, but being one with your best friend and your son, not so much.  I felt really bad for Quick, but I am glad Duke basically slapped him upside the head and told him that he was always there for him.  It was a touching and funny scene.  I love how they have each other's six at work and in love.  Duke and  Vaughan helping  him convince Cayson to give another chance was heartwarming and funny.
Cayson and Quick and one thing in common, loneliness and once they got together, that loneliness into a beautiful romance.  My favorite part was when Quick threw Duke and Vaughan out of his house.  I was laughing hard.
Passion, action, and brotherhood.  Nothing better in a book.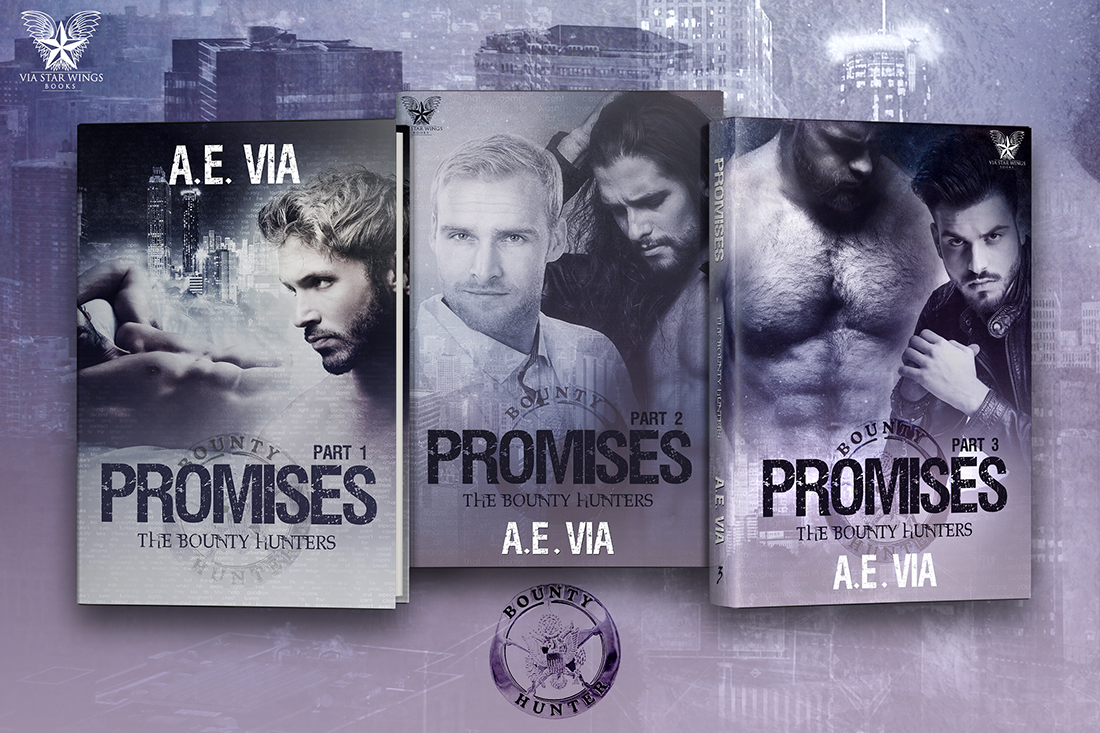 Excerpt
Dana
Dana turned at his row of lockers and just barely kept himself from tripping again when he saw Ford standing there shirtless in nothing but a pair of long, black nylon gym pants. It wasn't often he got to see Ford's chest, but goddamn, when he did, he appraised it with his eyes as inconspicuously as possible. Jet black hair that laid beautifully across firm, bulging pecs. So big you could pour water in the valley between them. Dana's eyes flicked downward for the briefest of seconds, to the slick trail of hair that disappeared into Ford's waistband. He wished he knew how much hair was down there, covering his abdomen, around the base of his dick. He was sure his thighs had a vast amount on them too. Ford was a bear in its most gorgeous form. Dana's mouth watered, his skin flushing with heat. Had it been that long for him? That long since Fisher walked away from him?
Ford's coal-colored eyes glanced up at him, his thick brows going down into a slight frown before he turned back to pull a black wife beater out of his bag. He didn't know why Ford looked at him the way he did, like he hated him and valued him all at the same time.
"What's up, Ford. Ready for this training?"
"You're paired with me today. Question is, are you ready?" Ford answered. His voice was rough, as though it was the first time he'd spoken all morning. His dark beard, coupled with that penetrating glare made him appear menacing. Eyes that were wise and mature spoke words that Ford's mouth didn't have to. Dana continued to look at him, refusing to avert his eyes. Ford didn't intimidate him. He knew what the man was capable of, and all it did was intrigue him rather than scare him. He felt sometimes that Ford considered him a lesser man. He was sick of people doing that to him – underestimating him. He had his own unique talents that he contributed to their team, he deserved respect and he was damn sure going to demand it from Ford.
"Hell yeah, I am. Don't think I'm going to hold back on you, old man." Dana winked. He meant it as a joke, but the way Ford straightened, the muscles in his neck tightening, Dana knew he didn't catch the humor. But he'd be damned if he was going to back pedal.
Ford walked up to him, putting them nose to forehead. Dana tilted his head up a fraction, squaring his own sculpted shoulders as he waited to see what Ford had to say. He was shocked when the back of his bicep was gripped and a thick forearm crashed over his chest, slamming him back against the lockers. Dana gritted his teeth at the force of the blow and grabbed onto Ford's biceps, feeling them flex under his palms. They were huge, solid. Dana knew he wasn't going anywhere until Ford released him… and he secretly liked that feeling. He looked up into Ford's eyes, a slight smile appearing, to show he wasn't scared.
"Grin all you want, you cocky little shit, but I'll show you what this old man can do when I get you on that mat." Ford ripped his arms away and walked up the row, turning the corner without a backwards glance.
Dana pulled in a breath of air and ran his hand over his chest where Ford's arm had been. He felt hot and mildly embarrassed. He thought he'd played it off well, though. He should've known Ford wouldn't take the joke for what it was. The man had no sense of humor… when it came to him, anyway. Dana had seen Ford laugh with his brother and smile when he was going over the latest military gadget he was able to get on the underground web, but lately the man refused to humor him. Dana dropped down on the small bench between the lockers. His big mouth had just written a check that his body was going to have to cash.