Good morning everyone! I have been reading alot since my last post. My ring finger still hurts and I still can't put on my wedding band, but I do have my husband's grandmother's band and that does so for now, that will have to do.
I won't be able to get to Weight Watchers until next year. I have to work and other things, and my routine is disrupted. I don't think I did too badly but I guess I shall see.
Since I am here, I have to review one of the books I read since last week. That book is….Awakening Veronica by Heather Rainier!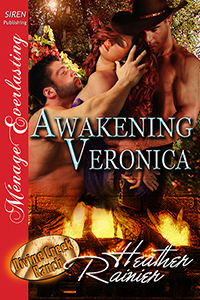 "Bullied all her life, Veronica Benedict has learned to withdraw rather than risk being hurt by those closest to her—but that's not the only type of bully she has to deal with.
On a research trip, a fellow author introduces her to two Doms at a wedding. Travis McDaniel is disillusioned by life in Washington, D.C., and is back home in Divine, examining his future.
Driven by the need to keep the citizens of Divine safe, Hank Stinson has put his loneliness and his secret desires aside—until he meets Veronica. Hank and Travis are captivated by the introverted author. Hank must decide if he needs this special kind of love more than he needs to be elected sheriff again, and Travis must choose between life in Divine and an opportunity to make a difference in the world. When they discover the bullying Veronica is enduring, their protective instincts come roaring to the surface."
This is Book 18 in the Divine Creek Ranch Series. I have previous reviewed this series. Here is the link to read about it. I have to say that this book has been very anticipated by most fans of the series. Why you might ask, because we finally get the story on everyone's favorite Sheriff, Hank Stinson, a/k/a the Silver Fox. Throughout the series we get a definite "Dom" feeling from Hank and we wanted to know more about him. In Awakening Veronica, we finally do.
Again, Divine, Texas, and Lusty, Texas crossover, when Grandma Kate swoops in and takes her cousin, Veronica, to Divine as a guest to Maizy and her Bears' wedding. Veronica was in an emotionally/physically abusive relationship at home with her boyfriend. When she finally ends it, she goes to Lusty to meet up with her brothers for their wedding. From there, Hank and Travis (whom Veronica has met before….ahhhh fate) see her and the romance starts (just as Grandma Kate knew it would).
I can relate alot to Veronica. I was bullied because I was smart and overweight as a child. Other kids can be cruel. And, let's face it, family can be just as bad even though they do it with only their best intentions. No matter why or what you say to someone something it can hurt them. Think before you talk.
I liked this book, no I LOVED this book. Probably because I could relate to alot of it. I could see alot of myself as Veronica. If I could choose a character that is most like me……it would be her.