Masquerade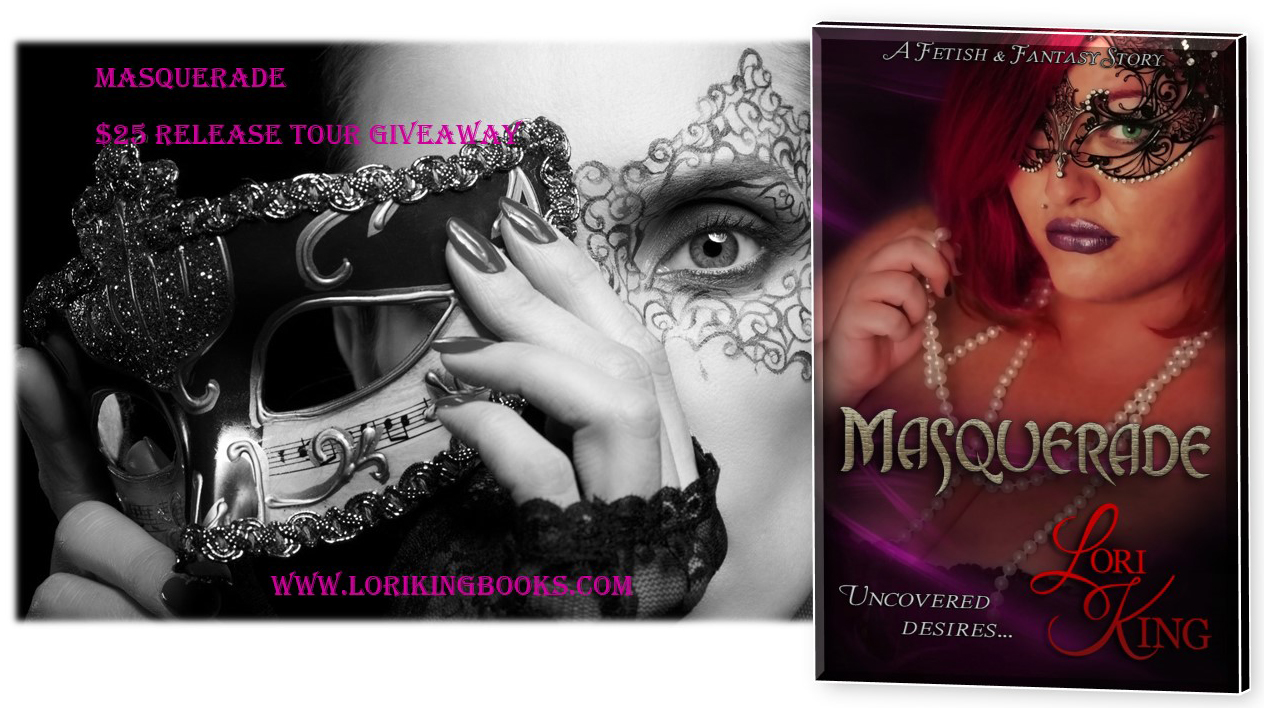 My Review
One night.  That is all  Julia and Ashton are supposed to have.  Each have held interest for the other since they had one hot wax scene demonstration they participated in.  Now that Julia is being auctioned off, there is no way Ashton can let any other Dom haver her.  Despite his norm, he bids for her.  One they have their one night, they know one night will never be enough for them.
Hot read that says, if you open yourself up past your comfort zone, anything can happen.
Synopsis
One night. Two people.  One risky move.
Can a submissive find happiness being auctioned off to a Dom she only knows as a business associate?
Can a Dominant chance creating a bond with a brand new submissive when he's determined to stay a bachelor?
When the mask is lifted away, and both of them are exposed, can they seek comfort from each other and experience their secret fantasies? Or will they back away for fear of "what if"?
Buy Links
Amazon: http://tinyurl.com/nbdxmnl
Amazon UK: http://tinyurl.com/qjhxxpq
Amazon AU: http://tinyurl.com/nbqayfr
Amazon CA: http://tinyurl.com/nzmhrzk
iTunes: http://tinyurl.com/pgw4xdf
Kobo: http://tinyurl.com/pgkkmw2
B&N: http://tinyurl.com/opy5a44
Fetish & Fantasy Series
Explore your secret fantasies…
Watching Sin
Submission Dance
Mistress Hedonism
Masquerade
www.LoriKingBooks.com
Lori's Bio
Best-selling author, Lori King, is also a full-time wife and mother of three boys. Although she rarely has time to just enjoy feminine pursuits; at heart she is a hopeless romantic. She spends her days dreaming up Alpha men, and her nights telling their stories. An admitted TV and book junkie, she can be found relaxing with a steamy story, or binging in an entire season of some show online. She gives her parents all the credit for her unique sense of humor and acceptance of all forms of love. There are no two loves alike, but you can love more than one with your whole heart.
With the motto: Live, Laugh, and Love like today is your only chance, she will continue to write as long as you continue to read. Thank you for taking the time to indulge in a good Happily Ever After with her. Find out more about her current projects at http://lorikingbooks.com.
Other Author links:
Facebook Author Page: https://www.facebook.com/LoriKingBooks
Fetish & Fantasy Facebook Page: https://www.facebook.com/pages/Fetish-Fantasy-by-Lori-King/1520280241559275
Twitter: http://twitter.com/LoriKingBooks
Goodreads: https://www.goodreads.com/author/show/6455081.Lori_King
.
____________________________________
Triple Play
I have loved Eric from Book 1!  I was so excited that he finally finds love.  If you haven't figured from the title, Triple Play, he doesn't find just one love, he finds two.  After Drew is brutally attacked, he becomes withdrawn and depressed.  It takes Eric and Brice to bring him out of it and into their loving embrace.  I love this series so far and cannot wait to see where it goes from here.  
If you haven' read a Sloan Johnson book yet, GO READ ONE!!!!
Triple Play
by Sloan Johnson
Publication Date: September 29, 2015
Genres: Adult, Contemporary, LGBT, Romance, Sports
Drew Jackson seemed to have it all. He has a family who loves and supports him, a tight circle of friends, and is a rising star with the Milwaukee Mavericks. Then, it all begins to unravel. Cam, the only man he's ever loved, falls head over heels for Drew's teammate. He makes a critical mistake in the playoffs that he's not sure he'll be able to recover from. And then, his world really crashes around him…
Eric Sapp may no longer play for the Mavericks, but he's still one of the guys. No one could have imagined how much his life would change when he agreed to help his former teammates mourn the end of their run for the pennant. After stopping a brutal attack, Eric is forced to face the feelings that've been growing for his roommate, Drew. That'd be much easier if Drew wasn't hell-bent on pushing everyone away as he recovers.
Neither of them were counting on Bryce Shaw. He and Drew enjoyed the one night they spent together, but knew it was unlikely they'd be anything more since they lived in different parts of the country. After Bryce is relocated to help a failing LGBT homeless outreach, he wants to explore something more with the Mavericks' short stop.
As much as Eric wishes he could be the one to help his friend, he knows Bryce holds the key to Drew's recovery. Will pushing the two back together be the biggest mistake of his life or will they all learn there is strength in numbers?
Also in the Series
About Sloan Johnson
Sloan Johnson is a big city girl trapped in a country girl's life. While she longs for the hustle and bustle of New York City or Las Vegas, she hasn't yet figured out how to sit on the deck with her morning coffee, watching the deer and wild turkeys in the fields while surrounded by concrete and glass.
When she was three, her parents received their first call from the principal asking them to pick her up from school. Apparently, if you aren't enrolled, you can't attend classes, even in Kindergarten. The next week, she was in preschool and started plotting her first story soon after.
Later in life, her parents needed to do something to help their socially awkward, uncoordinated child come out of her shell and figured there was no better place than a bar on Wednesday nights. It's a good thing they did because this is where she found her love of reading and writing. Who needs socialization when you can sit alone in your bedroom with a good book?
Now, Sloan is a tattooed mom with a mohawk and two kids. She's been kicked out of the PTA in two school districts and is no longer asked to help with fundraisers because she's been known to lose herself with a good book and forget she has somewhere to be.