I fell in love with David and Autum in Re/Lease (Doms of the FBI, #5).  I remember thinking how I didn't want their story to end.  Treasure Me is the coninuation of their love story, and I couldn't be more pleased.
Autumn is good at what she does, now she wants to prove it to everyone else.  David should have known that Autumn would never be happy just sitting there looking pretty doing nothing.  
This book is fully of action both in the bedroom and out.  I love this couple, but am excited to learn more about the other agents in SAFE Security.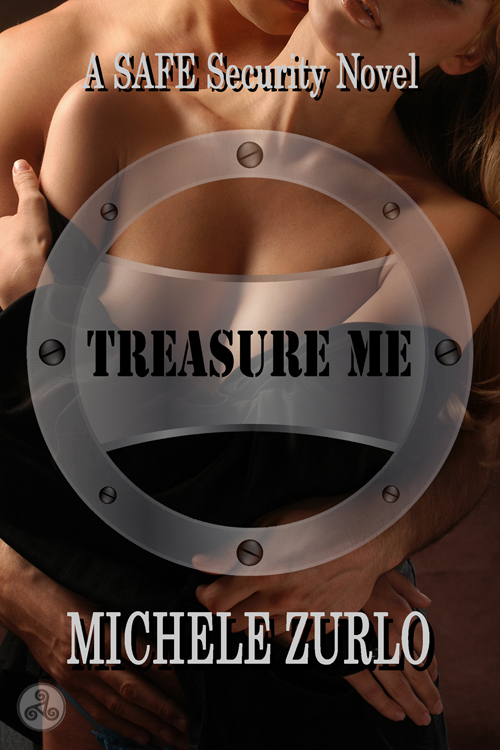 Relocating to Kansas City with David and working for SAFE Security was everything Autumn thought she wanted…except that the job isn't what she thought it would be, and her past seems to have a stranglehold on her emotions.
When Autumn takes a case without informing the rest of SAFE Security, she finds herself in hot water when secret victory blows up in her face. Her impulsive mistake almost costs their lives—and she soon finds herself jobless. Reeling from this failure and the way it's damaged her relationships with David and the team, she vows to start fresh—with a new name and in a new city. Unfortunately a local crime boss has other ideas.
In the midst of a mission, David must rush back to try to stop Autumn from leaving—only to find that Autumn and her sister have disappeared. Can he find them in time to save them and his relationship with the woman he treasures?
In Treasure Me, Michele Zurlo delivers a sexy, action-packed adventure tale full of emotional twists and turns.
Warnings: Spanking, D/s, Dom who puts his foot in his mouth, bratty sub, fingerpainting
Buy Links
"Being manipulative with your phrasing doesn't change the fact that there was a transgression, Sugar." I squeezed one of her ass cheeks. "Tonight. I'll leave the gag off. Right now, I want to show you how much I missed you." With that, I captured her lips for a searing kiss.
Softening, she yielded to my dominance. I teased the seam of her lips with my tongue, and she opened to me. She slid a hand into my hair while the other one trailed down my chest. I ran my hands from her ass, up her back, to her hair, and back down again. I wanted all of her soft curves pressed against me. She moaned loudly, and with a vicious yank of her hair, I broke the kiss to trail sucking bites down the side of her neck.
She loosened my tie and worked the buttons on my shirt. "If I get your shirt off, it counts as second base."
That was a challenge I couldn't ignore. Her shirt didn't have buttons. I lifted it over her head and unlatched her bra with expert precision. "Too late. I stole the base."
She grasped my dick through the fabric of my pants. I felt the heat of her palm and the gentle pressure of her fingers. "I think I'll take third."
I finished removing my tie, and I used it to bind her wrists. "I'm holding out for a home run."
Wearing only dress slacks and heels, she faced me with her breasts bared and her wrists bound. This travesty couldn't continue. I undid her pants and eased them down her long legs, kissing her flesh as I went down. She rested her palms on my shoulder to step out of each pant leg.
Now she wore heels, plain cotton panties, and my tie—still too much fabric. Through her panties, which were soaked through, I kissed her mons. "You're very turned on."
"I know, Sir. Getting my hands on a new safe does that to me."