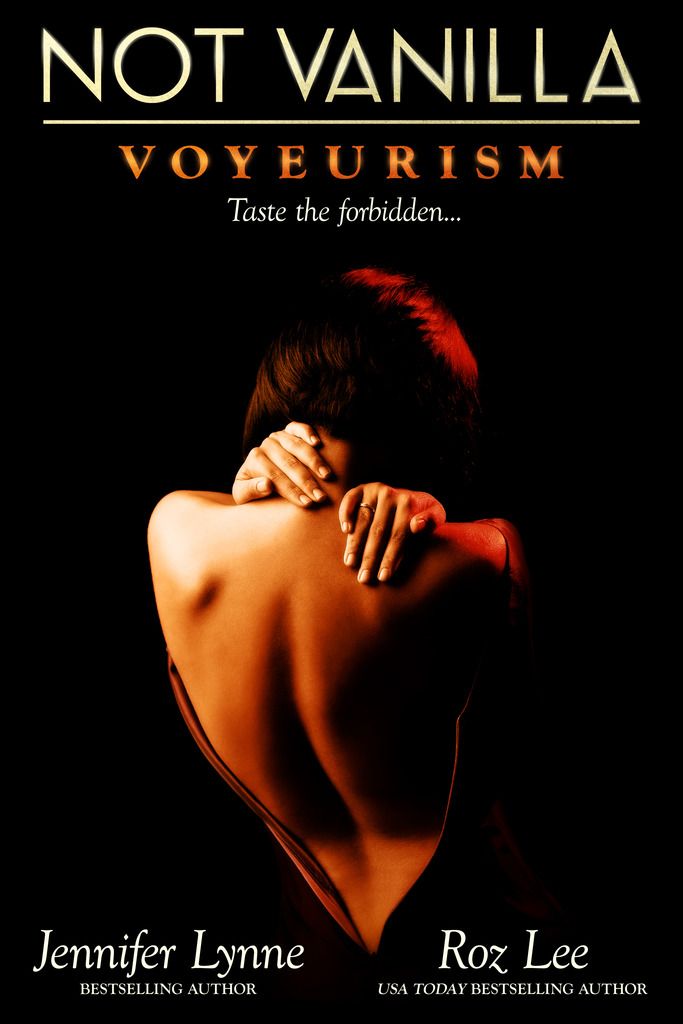 My Review
If you want a couple of quick reads about voyeurism, then read this book. Yes there are two stories here and they are far from Vanilla! One is about a woman who has an obsession with her neighbor and their Sunday "dates" where he screws his partner for the day so she can watch and masterbate from her apartment.
The other is about a woman who likes to watch her guy screw random hook ups, but it offends her as much as it turns her on. It is something that is keeping them apart. However, he has a kink all his own that may just fix things for them.
Like I said these are two short hot reads.
Synopsis
USA Today Bestselling Author Roz Lee, and Bestselling Author Jennifer Lynne, invite you to taste the forbidden in a brand-new series offering a tantalizing glimpse into a range of "flavors" that are definitely not vanilla!
The first in this series, Not Vanilla (Voyeurism), includes Watch Me by Jennifer Lynne and Lookin' Good by Roz Lee. These sexy, novellette-length stories are designed to take you into the erotic world of the watcher and the watched, while still holding onto the romance.
 Lookin' Good by Roz Lee
I wish I had never told Travis my deepest, darkest secret—that I like to watch. I should have known he would want to give me my heart's desire. I love him more than anything, but I hate him for using my weakness to try to win me back. Moreover, I hate myself for not being able to turn down the gifts he brings me. ~ Bailey Rose
 Watch Me by Jennifer Lynne
I was so afraid, when my husband uncovered my secret. Afraid he'd hate me, or think me disgusting, or be completely turned off. Equally scared this watching game I play with our sexy neighbor might be shut down for good. Can William bring himself to join my addictive Sunday night ritual, or will he force me to choose between the man I love, and the sexual urges that consume me? ~ Isabel
Excerpt of  Lookin' Good by Roz Lee
Beth elbows me in the ribs. "He's here again," she says, pitching her voice to be heard over the band. It isn't humanly possible to be less discreet. "He's lookin' good, don't you think?"
Everyone at our table gawks at Travis, even the ones who have to turn around to do so. To say Travis is lookin' good is the understatement of the century. Trust me, he's got nothing on the rodeo guy Penny has been crushing on. I've seen the guy. Travis is a good six inches taller, and, where the other guy could be described as lanky, absolutely no one would apply that adjective to Travis. His shoulders are broad, his chest muscled and covered with enough hair to make your tits stand up and beg when he brushes up against them. You could do laundry on his abs. It's a good thing he rarely ends up on his ass when he competes, 'cause there ain't an ounce of fat back there. It's all muscle, girlfriend. Don't get me started on how his backside looks in a pair of jeans. Well, everyone who's ever seen him knows already.
His eyes are the exact shade of faded denim, framed with long lashes I would die for. No matter how often he shaves a shadow of his dark beard shows. He knows it drives me crazy when he lets it grow a day or two. From where I'm sitting, it looks like his face hasn't seen a razor since day before yesterday. The man is trying to kill me. I swear.
I shrug for the benefit of the girls at the table then tip back the tequila shot I'd been hanging onto since arriving. It might as well be acid for all I taste.
Suddenly, getting blind drunk sounds pretty good. I raise the empty shot glass above my head, waving it around until our waitress gets the message. A few minutes later, she takes the empty, plunking a full one down in its place.
If I look at Travis, he'll know exactly what I'm trying to do, and he'll be angry. So, I don't look. Instead, I raise the glass to my lips and tilt it up, throwing my head and the liquor back at the same time. Just like watching Travis, I have to pace myself with the drinking. Yeah, I want to get shit-faced but not as much as I want what Travis is here to give me. This time, I slam the thick glass onto the table, leaving it there while I savor the burn in my gut and wait for the tequila to blur the lines between virtue and obscenity.
Oh, how I love to play the virtuous woman when deep inside I'm anything but. That's the power Travis holds over me. He knows, and he loves me anyway.
I don't know why I can't accept his love, but I'm sure it has nothing to do with him or his gifts and everything to do with me. I'm fucked up.
My fuckedupedness grabs me by the pussy, and I glance in his direction again. Sure enough, he's looking right at me, warning written in every line of his face. He's told me before drinking won't make the fuckedupedness go away, and I know it's true. Lord knows I've tried to drown it in alcohol more than once. With Travis, I tried going cold turkey, which lasted all of three weeks before I went on a binge. That's when he decided it was up to him to give me what I needed, measuring the doses and doling them out on an as-needed basis. In between, he would be all mine.
I don't know if I would have gone for the plan if he'd discussed it with me ahead of time or not, but he didn't, and I didn't. Go along with it, I mean.
Yet, here I am, creaming the panties I don't have on and clutching an empty shot glass to keep from touching myself. My insides quiver, and, like a junky, I need a fix. Thank God, Travis will give me one.
Amazon US / Amazon UK / Amazon AU / B&N / iBooks / Smashwords / Kobo / Amazon CA
Add to Goodreads shelf
About the Authors
Jennifer Lynne writes sensual and erotic romance from her home in Melbourne, Australia. She is published with Red Sage and Breathless Press, and has forged a successful indie career with her popular GODS OF LOVE erotic series about sexy Greek gods searching for love in a modern-day world.
Jen loves her family, good coffee, red wine, and sitting by a cozy log fire watching the misty rain outside turn everything fresh and green. She hopes her tales of love and lust continue to excite readers, and her dream is one day to be able to write full-time.
Jennifer loves to hear from readers and fellow book lovers. She can be contacted via her website & blog, or sign up for her e-newsletter and never miss a new release.
USA Today Best-Selling author Roz Lee is the author of over twenty erotic romances. The first, The Lust Boat, was born of an idea acquired while on a Caribbean cruise with her family and soon blossomed into a five book series published by Red Sage. Following her love of baseball, she turned her attention to sexy athletes in tight pants, writing the critically acclaimed Mustangs Baseball series.
Roz has been married to her best friend, and high school sweetheart, for over three decades. Roz and her husband have two grown daughters (and a new Son-in-law) they couldn't be more proud of.
Even though Roz has lived on both coasts, her heart lies in between, in Texas. A Texan by birth, she can trace her family
back to the Republic of Texas. With roots that deep, she says, "You can't ever really leave."
When Roz isn't writing, she's reading, or traipsing around the country on one adventure or another. No trip is too small, no tourist trap too cheesy, and no road unworthy of travel.
Visit Roz Lee's website. Never miss a new release—sign up for her monthly newsletter.