Did you know …
Autism now affects 1 in 68 children and 1 in 42 boys
Autism prevalence figures are growing
Autism is the fastest-growing developmental disorder in the U.S.
Autism costs a family $60,000 a year on average
Boys are nearly five times more likely than girls to have autism
There is no medical detection or cure for autism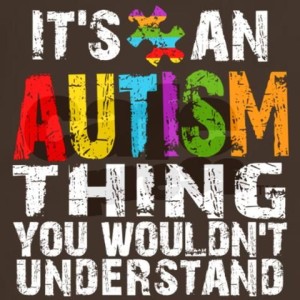 It is true, people who are not touched by someone with Autism don't understand.  Fortunately, today is the beginning of  Autism Awareness Month.  I, along with many other people, will be filling you in on Autism.  If you didn't read my About Me page, or seen my Facebook page recently, I have a son who was officially diagnosed with ASD in first grade.  What is ASD?  According to Autism Speaks, "Autism spectrum disorder (ASD) and autism are both general terms for a group of complex disorders of brain development. These disorders are characterized, in varying degrees, by difficulties in social interaction, verbal and nonverbal communication and repetitive behaviors. With the May 2013 publication of the DSM-5 diagnostic manual, all autism disorders were merged into one umbrella diagnosis of ASD. Previously, they were recognized as distinct subtypes, including autistic disorder, childhood disintegrative disorder, pervasive developmental disorder-not otherwise specified (PDD-NOS) and Asperger syndrome.
ASD can be associated with intellectual disability, difficulties in motor coordination and attention and physical health issues such as sleep and gastrointestinal disturbances. Some persons with ASD excel in visual skills, music, math and art.
Autism appears to have its roots in very early brain development. However, the most obvious signs of autism and symptoms of autism tend to emerge between 2 and 3 years of age."
I knew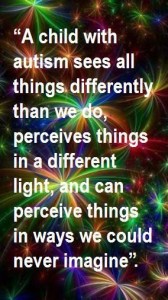 something was different with my son when he was about 3 or 4.  Nursery school (pre-school) even noticed a difference.  It took me 3-4 years to finally get my suspicions confirmed.  You would never think anyone would be so happy to know their son had Autism, but I was.  With that diagnosis, I knew now he would have access to many different classes and services within the school district.   I always had the thought that the diagnosis isn't the end, but the beginning for him.  
Today he is a thriving 14 year old about to graduate middle school.  He is in a 15:1 class (15 Students to one teacher)  and has a 3:1 (1 aid to 3 children) aid.  Having a child with ASD you learn a whole new  lingo.  I will not bore you with a vocabulary lesson, but I will clarify where I can.  Nick's class is the exact same class a "typical" child would go to.  Same curriculum., however, modifications are made so that the kids learn to the best of their ability.  I mean, Nick has never really done a full report like I did in school.  They are too busy learning what is really important.  Math (especially the evil common core crap) is hard.  It takes some kids longer to learn than others.  These classes are designed for that.  But like I said they learn everything their peers do.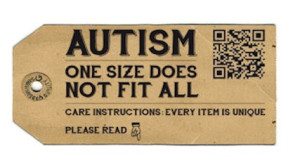 My son is in band, chorus and is on the school track teams.  There is nothing my son can't do that others can't.  Not every child of Autism has the same abilities.  All I tell my son is that there is nothing he can't do if he puts his mind to it.  Like the graphic says, one description of a child with Autism is the same.  They are unique.  What works for one, may not for another.  Many children with Autism have melt downs.  Trust me, when you see it you will know it.  Some are full out, some more subtle.  I have one request though.  If you see a child in full melt down in the middle of the store, trust me when I say the parent who is there  knows what they are doing.  Don't add your two cents unless asked.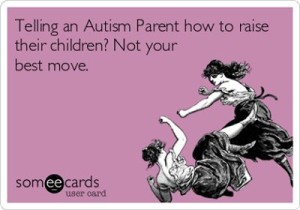 Have you noticed that my usual pink/purple font is absent from this post?  That is because I am going blue for Autism.
Every April 2, Autism Speaks celebrates World Autism Awareness Day with a global autism awareness campaign called Light It Up Blue (#LIUB).  

How to LIUB
In honor of people with autism worldwide, iconic landmarks, hotels, sporting venues, concert halls, museums, schools, universities, bridges, retail stores, and thousands of homes will light blue beginning on April 2!
Light Homes, Businesses, Schools, and Landmarks Blue

Wear Blue
Post Blue
Raise Awareness with Blue

 Dear fellow authors, bloggers and interested parties,
Come join a group of romance writers, parents, other interested parties who want to help raise awareness of Autism Spectrum Disorders. We hope to share information about groups, support services and extend a hand to those families dealing with ASD. Autism Spectrum Disorders (ASD)… Romance Authors Unite: Bringing awareness out of the prehistoric times.
Want to help with the planning? Sign up for a takeover slot? Join this group,  ~ Romance Authors Unite for ASD Awareness…
Beginning on April 2 we will begin sharing public service type posts. The event page will share at least one post per day throughout the month of April. The event will culminate with a big author-takeover event on May 2nd!
A month long push to raise awareness, and to help those families/caregivers affected by ASD locate
resources and information which will end with a FUN PG-13 party!