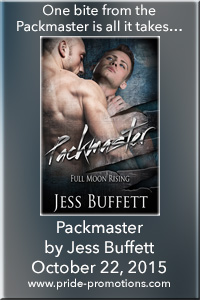 My Review
Kyan's heart broke when he woke up to an empty bed and no note.  I mean if you are going to leave the next day with the hopes of having more, leave a damn note!  Seeing no note, Kyan left the hotel room heartbroken.
When Blaise saves Kyan months later from Hunters, I was like about time!!!!!  Then he realized he saved more than just his mate.  Blaise is packmaster and no one would ever cross him, but I like how Kyan does and that they balance each other out.  Blaise has a soft spot for Kyan, but then that is what a good mate to an alpha does.
This is a short book in a new series that I really enjoyed.  I can't wait for more in this series.

Buy the book:
Amazon: http://www.amazon.com/Packmaster-Full-Moon-Rising-Book-ebook/dp/B016OM3TBO/
Are: https://www.allromanceebooks.com/product-packmaster-1907057-145.html
Meet the author:
Jess Buffett was born and raised in New South Wales, Australia. She is a mum of two, married to her high school sweetheart.
Jess is a hopeless romantic who is a huge fan of M/M and M/F romance with a happy ending—anything with hunky men in all their glory, whether they be Shifters, Vampires, Cowboys, or the boy next door.
A caffeine addict who shamefully can't make a decent cup of coffee to save her life, Jess believes in soul mates, happily ever afters, and in love at first sight, but that sometimes people need a second or a third for the brain to catch up.
Where to find the author:
Facebook: www.facebook.com/jessbuffett05
Facebook Author Page: www.facebok.com/JessBuffettAuthor
Twitter: http://www.twitter.com/JessBuffett
Pinterest: www.pinterest.com/jessbuffett/
Website: www.jessbuffett.com
Blog: www.jessbuffett.wordpress.com
Email: jessbuffett@gmail.com
Goodreads Link: https://www.goodreads.com/book/show/27210842-packmaster