Ok so this weekend I ran out of new books to read and I said…."Karen, it is time to reread something so that you can stop spending so much money!!!" So, I decided that I will reread the Divine Creek Ranch Series by Heather Rainier.
This series, to date, has 14 whole books and two novellas. Here is the complete reading list in order!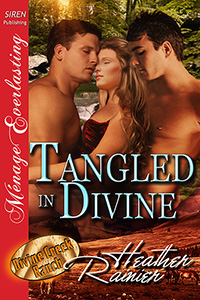 Book 1: Divine Grace (MFMM ménage) Grace, Jack, Ethan and Adam
Book 2: Her Gentle Giant*(MF) Rachel and Eli
Book 3: Heavenly Angel (MFM ménage) Teresa, Angel and Joaquin
Book 4: Rosemary's Double Delight (MFM ménage) Rosemary, Wes and Evan
Book 5: Spurs and Heels (MF) Juliana and Ash
Book 6: Maya's Triple Dare (MFMM ménage) Maya, Kendall, Boone and Richard
Book 7: Summer's Indiscretion (MFM ménage) Summer, Ace and Kemp
Book 8: Lydia's Twin Temptation (MFM ménage) Lydia, Chance and Clayton
Book 9: Their Divine Doctor (MFM ménage) Emma, Duke and Gage
Book10: Divine Phoenix (MFM ménage) Lily, Clay and Del
Book11: Sparks Fly! A Divine Creek July 4th Family Reunion (MF, MFM, MFMM ménage)
Novella in the Insider's Guide: Divine Déjà vu (MFM ménage) LuAnn, Mayn and Daniel
Novella: Margot's Hunger (MFM menage) Margot, Jake and Gil
Book12: His Tattooed Virgin (MF) Seth and Jayne
Book13: Tiny Dancer (MFM ménage) Ben, Quinten, and Camillia
Book14: Tangled in Divine (MFM ménage) Chris, Gwen, and Julian
*e-book format is in 2 parts: Part 1: Her Gentle Giant: No Regrets and Part 2: Her Gentle Giant: Remember to Dance. The paperback version of HGG is both parts combined.
This is my 7th time rereading this series, and it never gets old. I just want to move to Divine, Texas and find a cowboy or two for myself….just don't tell my husband ok?! As of right now I am reading part two of Her Gentle Giant. I love Rachel and Eli's story. Who am I kidding, I love all the stories about Divine.
Heather has a very loyal fanbase (yes including me) and we wait with bated breath to see her next book, Lucy's Revenge, Book 15 in the series. I am particularly excited for this book, because it crosses over with the Lusty, Texas Series by Morgan Ashbury a/k/a Cara Covington.. I love when author's do this. It is like old friends coming for a visit. I feel like I should make some sweet tea and bake a cake for them. lol
If you are looking for an excellent book series to buy and take with you on vacation or to the beach, then Divine Creek Ranch Series is it! (Pick up the Lusty, Texas Series also!) Please note, both series are about ménage relationships.
I give the Divine Creel Ranch Series ❤❤❤❤❤!
As Mrs. Warner would say, "Seize, the Day Baby!"